Meet Our Staff




Jeff Braswell
Parts Director - BMW of South Atlanta
by staff




Imagine long rows of meticulously labeled parts that run from MINI keychains to complete M Series engines and transmissions. This is the world of Jeff Braswell the Parts Director for BMW of South Atlanta. An original employee, Jeff was here before the dealership was even officially opened in 1999 stocking the shelves and putting the processes in place that ensures that you are not waiting for that critical BMW or MINI part or accessory.Jeff started in the automobile industry while still in High School back in 1984. Never a real car enthusiast, Jeff gravitated to the parts management role through his self described picky attention to detail. This attention is evident in the clean, neat rows of inventory that we started with. Millions of dollars pass in and through our parts warehouse. It doesnt matter to Jeff if the part is needed for an in-house repair or if it is going onto one of our parts delivery trucks that travel out daily to our wholesale customers, all were ordered, catalogued, and handled through Jeffs department.The next time you are in BMW of South Atlanta, stop on by the Parts department, look over the BMW and MINI lifestyle collection, and say hello to Jeff and the gang in parts. They do a great job and would love to meet you.



Leroy Sims, Client Advisor
Leroy has always had the car business in his blood. He began as an Environmental Affairs & Compliance Manager with General Motors back in the disco days of the 1970's. Moving into the retail side of the business in 1985 starting at Erhard BMW in West Bloomfield, Michigan, Leroy has accumulated a number of Top Sales and the coveted BMW "Profiles in Achievement" award.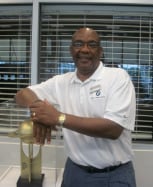 Generations of Atlanta residents have purchased their BMW from Leroy, first at Chris BMW in Decatur and starting in 1999, at our location in Union City. As one of our most requested Sales Consultants, Leroy stays busy with repeat and referral customers. This in itself is a testament to the level of service and the complete satisfaction they receive from dealing with an experienced veteran.
When asked about his success and longevity, Leroy paused and mused, "In 25 years as a Car Salesman, I have seen a lot of fads and trends come and go, I can tell you that I stayed with BMW all these years because they have consistently built a good solid car. Every BMW model is easy to sell; I just give customers that little extra attention. So both the cars and I set ourselves apart."
When not at work, adding to the thousands of satisfied customers, Leroy can be found gardening at home in Stone Mountain, Georgia with his family or enjoying a little fishing.
Visit Leroy Sims and all of our sales Professionals at BMW of South Atlanta.